Go Solar and Save up to $2,500+ per year on electricity bill!
Power your home with Premium Solar Panels in Sydney. Starting from $2,499.
Get Quote
Save Environment with Solar Panel Sydney
Are you tired of fluctuating electricity costs? Give a try to the solar system installation for Sydney properties. It's time to go solar to slash down electricity bills while saving the environment. It's tough to choose the best solar system but don't worry Sun Max Solar has always got your back. We will guide you in determining the ideal solar system for your place.
● Trustworthy and team of highly professional technicians.
● Guaranteed 100% customer satisfaction or money refund policy
● Trustworthy and affordable services
● Owned and managed by only Australians
● Approved from high entities of Australia
● Licensed Electrician
Sydney's Highly potential Solar Panels
You must have been looking for the best company who can help you to implement solar panels at your place, Right? Trust Sun Max Solar. From making design to purchasing to installation, we've got you covered. You don't need to rush for this service anywhere. We believe in energy independence and that's why we provide our customers with high potential and effective solar panel services in Sydney. Being a part of the Clean Energy Council, we serve numerous solar energy commodities and solutions to all kinds of places that are thinking of implementing solar energy at their residence. In Sydney, Sun Max Solar offers low-cost programs and discounts to each and every customer.
When it comes to choosing the finest solar system and batteries for your house, there may be a lot of risks and uncertainties, investigation, and strategy involved, and along with that wasteful initial expenses. But that's not going to happen when you come to us. We have made everything simple for our customers so that they can easily understand what is best for them and what is not. Just to make sure our customers don't face many problems in this process, we handle all the work which includes the selection, implementation as well as administration. Our team of experienced and expert technicians was dedicated to guiding the customers in discovering the various advantages of using and operating on a pollution-free, renewable energy source. It brings a smile to our face when our customers are satisfied with our work. Being the leading solar panel company in Sydney, we make sure people enjoy the advantages of solar power while implementing the solar panels at their residences at a very affordable price. When a customer installs a solar panel from us we provide them with a bunch of services which includes installation of solar power, selling of the solar inverters and panels, and regular cleaning and servicing of the installed solar system. Contact us to get the most accessible, effective, and durable solar services for your residence.
Get in touch with Sydney's leading solar panel company
Solar panel installation is increasing at a high rate in Sydney and a number of companies are opening daily to provide this service. But does all provide the best service? No! Choosing the best solar power supplier might be the most difficult aspect of the solar purchasing procedure and it's also very important to properly analyze a solar installer to choose the ideal one for your requirements.
Sun Max is the most respected and trusted solar installer and supplier in Sydney. At Sun Max Solar, we are not only up to providing the guarantee of our products. Our installation is far beyond that as we provide quality of work along with guaranteeing the system's energy generation. Such guarantees bring signs of relief to the customers while purchasing the solar system. Through this, our customers could easily secure and evaluate the value of how much amount dies they need to pay. We provide a cost-effective alternative to the typical stand-out and roof-top solutions for architects, business owners, designers, and homeowners. The incorporated rooftop concept introduces a unique generation of solar systems that are more accessible. It eliminates the necessity to penetrate existing roofing while giving a clean, stylish, and efficient look that makes your property stand out. Our earlier clients have reaped the benefits of our solar panel systems and we have a proven track record of our quality service and reliability. Also, we strive to develop solar system services by enhancing quality at an affordable price. Just in case you want to know what our clients were saying about us you can also spend some time looking over our previous efforts.
The rising electricity bills are everyone's concern. That's why it's necessary to switch to implementing an energy source that is a more cost-effective source of electricity as well as good for the ecosystem. Sun Max Solar can assist you in making the changeover for your business or residential property in Sydney. Our company is also completely owned and operated by Australians. We have gained loyal customers in Sydney who love to install solar panels from us because they know what quality we provide. We have been serving Sydney for years and the residents of Sydney know about our quality service. That's the reason why we have gained so much trust from the residents and counted as the best solar panel installers in Sydney. We provide complete solar systems customized to meet the individual demands of each home throughout Sydney's wider metropolitan region.
If you're thinking about getting pollution-free and solar, Sun Max Solar is always there to assist you. We've put up a solar choice guide to help customers make the switch to renewable energy sources and save a lot of bucks on the electricity bill. Going solar can't be ever wrong. Get in touch with us right away! One of our excellent members of energy solutions experts can assist you in determining whether solar panels really are the best option for your residence or not.
Established for Reliability
We remember that installing solar systems in any place is a significant financial commitment, and also that making a conscious decision to do so is a major responsibility. And that's why we continuously check to see if our consumers are happy with our service. We understand the value of consumers and their faith in a company for such a large investment as one of Sydney's finest managed and run solar suppliers and installers. We endeavor to give exceptional solar panel solutions to our Sydney consumers, which includes taking full use of land orientation, reducing reliance on power usage, and providing a solution that lasts much longer. That is why we have several devoted clients that only want to do business with us.
Moreover, we are a certified solar company that is trustable and upfront, and we will disclose the cost of solar panel installation in Sydney to you right away.
Time to know the work function of solar panels
Although most people are aware that solar photovoltaic (PV) panels convert sunlight into usable power, few are aware of the technology behind the procedure. It may appear sophisticated, but it all comes down to the photovoltaic effect, or matter's capacity to release electrons when exposed to light. These PV panels are commonly mounted on the terrace of the house or any other suitable area. The solar panel installers strategically put the panels so that they can capture more and more solar energy. But how do they convert these rays into electricity? Which materials were used in it? While designing solar panels, technicians use photovoltaic cells. Numbers of tiny photovoltaic cells are put within the solar PV panels. And these cells are formed using semi-conducting substances, mainly silicon. As it can transmit electricity while preserving the electrical imbalance required for the creation of an electric field. So, basically, photovoltaic cells transform the sun's energy into electrical energy.
The photovoltaic cells are placed between the plates of silicon or other semiconducting substances. Where each layer has unique electronic characteristics that get activated when exposed to photons from the sun and this results in the creation of an electric field. The whole process is called the photoelectric effect. The effect generates the current required for energy production. In general terms, when the sunlight strikes on the photovoltaic cell, electrons within the semiconductor are liberated, and bus bars gather the liberated electrons, resulting in an electrical charge. Also, the solar panels produce energy in the form of Direct Current (DC) that's why solar panel installers attach all the panels to inverters that transform Direct Current to Alternative current for residential uses. However, various devices and equipment across the world operate in Alternate Current (AC).
In case energy is left or not utilized by the breaker box then the energy is transferred to the utility grid via the utility meter. It is a device that monitors the flow of power from the grid to your residence and vice versa.
Bring Solar System for your business or residence with our proper guidance
Choosing the right solar system is a complicated task. And we understand that. That's why our company provides customers with experts who have years of experience in this field. They guide our customers on which one would be best for them along with making them understand each and every procedure that goes while installing the solar panel. If you are searching for the best solar panels in Sydney, contact us. We will make sure that you don't feel any problem when you install solar energy at your residence.
Solar Energy: A major step towards environmentalism
Several citizens of Sydney and around Australia are seeking sustainable energy sources in order to live and enjoy eco-friendly lifestyles. And when you think to live a life like that, switching towards solar energy is the best move. Sydney is famous for its bright and sunny weather and if you're a resident of this place you must take some advantage of this weather. Want to know how? By installing a solar power system in your Sydney residence. Sun Max Solar has been assisting Sydney residents in embracing solar technology for several years, that's why we know which area, which home requires what kind of Solar panels for their residence.
Sun, one of the most important factors why the earth has life. Every day, life is sustained by the energy provided by the sun's beams. It supplies us with light, health advantages, heat, and a variety of other uses, such as solar energy; a source of electricity. The world would be nothing more than a piece of rock if it weren't for the benefits of the sun. Sun provides solar energy and it is counted as an endlessly renewable source of energy that doesn't produce pollution. Sun doesn't emit CO2 or any other greenhouse gases since it doesn't require any fuel or other resources like wind or water. That's one of the biggest aspects which makes it one of the most effective and eco-friendly energy generation technologies. However, there are additional advantages of solar energy that aren't as noticeable but are just as significant when deciding which system to choose.
In Australia, fossil fuels are used to power the grid. Because electricity is demand-driven as well as expensive, consuming less of it reduces damaging emissions such as carbon emissions. Solar panels, on the other hand, produce no damaging carbon emissions. The solar panel system converts sunlight into solar energy, which is then transmitted to an inverter for conversion to AC (alternative current), after which the inverter provides electrical energy to the home or workplace. As a result, installing solar panels has a significant influence on lowering your carbon footprint.
Solar energy minimizes carbon emissions since solar panel manufacturing produces no toxic by-products. Because solar electricity is as sustainable as the sun, it helps to protect the earth's valuable resources by moving dependency to solar. Solar energy is a useful and easy alternative for individuals seeking increased energy independence and lower dependency on the grid – all while saving money on solar panels! Solar electricity is an important factor in a sustainable lifestyle. Sun Max Solar can help you with the solar panel installation in Sydney. We will offer you high-quality items and ensure that they are properly installed at your place. Our solar energy specialists will build a system that will provide you with the highest solar panel benefits and productivity in the future. Get in touch with us right away!
Reasons to Go Solar Panels Installation in Sydney
One of the most eco-friendly resources is solar energy. It utilizes the natural resource that we encounter daily (sun rays) and transforms it into the appliances we use daily. It's not only good for the environment, but it could also help you save money on your electricity bill. Solar power may be divided into two types: photovoltaic cells and concentrated solar panels. Photovoltaic cells turn sunlight into electricity. The alternative option is concentrated solar power, which concentrates a wide area of sunlight into a narrow beam using mirrors or lenses. As long as there is sunlight, solar may be used almost everywhere. What makes solar power so appealing is that everyone can utilize it; all you need are a few instruments to get started! Solar power began to emerge in the 1960s, though by the 1990s, it was being used in houses. Since then, Australia has remained the world leader in residential solar energy. You can observe solar panels on the rooftops of houses all over the place. If you're still not convinced, consider the following reasons why you should use solar energy in your property:
● Solar Power Can Be Used For More Than Just Lighting: You're in for a surprise if you assume solar is only for lighting. Solar energy is not just used to power the lights, but you can also use it to power your refrigerator. It may be used to generate power for your entire home! Think about all of the things you do using power. Do you think it's simply the lights? You utilize energy to power your refrigerator, television, and pretty much anything else! And, while you may switch off your television at night, it's unlikely that you do the same with your refrigerator. Solar energy can help you save money on your electricity costs! Are you aware that it can even be used to heat your water? There are several methods to save money by utilizing solar energy.
● Freshwater is not harmed by solar energy systems: Solar energy, on the other hand, does not affect the availability of freshwater. A little quantity of water is utilized to cool and clean solar panels in big solar energy installations. However, it is far smaller than the amount used by fossil-fuel power generation.
● It's all about saving money in your pocket: Do you feel anxious when you read your energy expenses? Why not go solar. Solar energy, Sydney, is a terrific way to save money, and it makes sense economically. When you install the solar system, you'll automatically begin saving money on your electricity bill – especially if your device has a solar battery and it can also conserve energy for usage when electricity prices are at their maximum during "on-peak" times. The benefits will rapidly add up, and after five years of installing the solar system, you'll have saved as much on your electricity bill as you paid for it.
● Time to enjoy Tax rebates opportunities: Although no one enjoys tax season, you can make it pleasant. Want to know how? By having a solar power installation for your Sydney residence. Yes! you could get it a little more pleasant by taking advantage of tax credits provided by the Australian Department of Energy and Sydney. These are fantastic rewards for your environmentally responsible dedication to adopting alternative energy sources. The good news is that the Australian government has listed solar hot water and solar electricity as technologies that are qualified for subsidies to assist you in making the move towards sustainable energy. Small-Scale Technology Certificates (STCs) are a type of incentive associated with Australia's Renewable Energy Target (RET) program. STCs are provided in every Australian state and change in price based on market conditions. The range of certifications that may be generated per system, on the other hand, is determined by its geographical position and varies depending on the kind, size, and design of the system. The incentives are even higher in industrial applications since the installations are always much greater. STCs are being used as a point-of-sale rebate to assist you to save money on your solar installation. Throughout a free on-site solar examination, your neighborhood Sun Max Solar specialist will be able to offer you all the knowledge you want.
● Enhance your property value by going Solar: Solar panels installation in Sydney is a wise investment for a variety of reasons, one of which is the added value they provide to your property. According to a study done by a top real estate online service, the majority of Sydney residents feel that properties fitted with solar power are more valuable than those powered by regular electricity sources. According to the survey, properties with green technologies like solar panels, power storage, or rainwater tanks take 13 days shorter to sell on average than ones without. Although the value cannot be quantified, a home with solar electricity or solar hot water should be simpler to sell or more enticing than a comparable property that is not as energy-efficient or environmentally friendly. Installing a Sun Max Solar system gives your property the extra benefit of a brand with years of expertise in the solar industry, giving you even more peace of mind.
● Enjoy a future with more sustainability: You may actively cut carbon emissions and live a much more healthy lifestyle by shifting to a clean and renewable source of energy like solar. Install a solar power system to produce electricity without using fossil fuels and gain more grid freedom. Then, for a full solution that can help you minimize your carbon footprint even further, insert battery storage. Our objective is to assist you in selecting a solar solution that is right for you, not just in terms of cost savings, but also in terms of living a more sustainable lifestyle while lowering your environmental impact. Contact us now! To install solar panels in Sydney.
The Process of Sun Max Solar
During a brief phone chat, we'll discuss your property, your current electricity costs, the solar system you're interested in, and how much energy you'd like to generate with your future solar panels in Sydney. We offer a wide selection of solar solutions to meet a variety of large and small-scale applications.
If we determine that your home or company is a good choice for solar panel installation in Sydney, we'll get to work on designing a custom solar panel system for you. To achieve optimum power generation with sunshine, we stress designing solar systems that are entirely matched to the direction and position of your property, as well as the amount of electricity you plan to generate with the custom solar energy systems.
Thereafter, we'll conduct the solar panel installation process in Sydney. We have the best solar panel suppliers and installers in Sydney, our professional specialists will oversee the entire installation procedure, from licenses to inspections and networking. Regardless of the scale of your installation, we strive to make this step of the project as simple as possible. As a result, your tailored Sun max solar power system in Sydney will be totally fixed. After that, you'll see a decrease in your utility bills.
After the solar panel installation method is completed, all of our customers receive ongoing after-sale support for all inquiries, maintenance, and solar energy solutions. From the preliminary telephone conversation to our post-installation help, which you can contact at any time, everything we do centers around client service. We prioritize our solar Sydney customers at Sun Max Solar, ensuring that all of their demands are met with our high-quality solar systems. If you'd desire to discover more about our solar energy Sydney, please contact us right away via phone or email.
Learn about the different types of solar panels we offer in Sydney
At Sydney, we only sell high-quality equipment created by Sydney's leading solar panel technicians. We have the following solar panels in Sydney:
● Q Cells Q.Peak Duo-G6+
● JinkoSolar Tiger N-Type
● Aleo X59
● LG NeOn2
● JinkoSolar Cheetah Plus
Our solar panel consultants help owners determine which solar technology options are appropriate for them.
Our users are highly suggested to purchase one of our solar panel systems. Our solar energy services include an inverter, roof mounting, and electrical kits, as well as complete solar panel installation by one of the best solar panel installers in Sydney.
When you contact us, our solar power experts will explain your solutions as well as solar panel costs, allowing you to select the option that best meets your needs and fits your budget. Our contact information can be used to contact us through email or phone.
Know how Feed-In Tariff work in Sydney
A feed-in tariff has been implemented by many power providers. A feed-in tariff compensates you for power generated by your solar PV system but not consumed in your house.
A price is charged for any solar energy that is sent back into the grid through your residence below a net feed-in tariff. Hence, if you produce more energy from your solar panels than you consume at any given moment, you will get compensated for the surplus electricity you send into the grid. If you consume all of the energy you produce, it will be deducted from your regular power payment. You get compensated for each and every unit of energy produced by your solar panels with a gross feed-in tariff, that is no longer available for new installations because all produced electricity by your system leaves your house and is exported to the grid power lines. To get the feed-in tariff, you must apply it to your power retailer. You must know how well you will be compensated for each kW/h exported before negotiating a contract with your power provider.
You must verify with your power supplier regarding any tariff modifications that may happen as a consequence of installing solar as well as thoroughly evaluate the benefits and drawbacks before deciding to use this specific electricity retailer. Request information from our solar installers of Sydney about the most solar-friendly power retailer in your region, and consider switching to receive the best feed-in tariff agreement.
Get in touch with a non-profit organization that helps customers compare feed-in costs in their region. You may use such a program to determine which energy company in your area offers the best value. Sun Max Solar, provides the best Solar panels in Sydney, contact us now to enjoy our services.
The best way to maximize your feed-in tariff income is to use the bulk of your power during full sun hours. For example, start utilizing your heavy equipment throughout the day, such as air conditioning, dishwashers, and washing machines.
Time requires in installations of Solar power system in Sydney
A few crucial phases in the solar installation procedure guarantee that your solar PV system is precisely suited for your house and correctly filed with your municipality. The duration between our initial conversation to implementation is normally 10 to 14 days; nevertheless, relying on your area's permission process, this time frame might be as long as 30 to 45 days.
After the application is approved, we order the necessary components and schedule an appointment for the solar system installation in Sydney to be finished. Our CEC-accredited specialists can often finish the project in one day; however, this relies entirely on the region and size of the solar panels, as well as the weather conditions; if everything is not in our favor, the project may take longer to complete. We do not even utilize contractors at Sun max Solar. Our entire solar team is completely linked, which means you'll be dealing with the same people from the moment you contact us to the moment your system is turned on. This also aids in the efficiency of the procedure for you!
Why employ us?
Solar energy Sydney is becoming increasingly popular for its electricity generation features across the world. People are more moving towards producing electricity from the sun instead of the local power provider. We provide a fully integrated solar system to light up your property with the help of solar energy. Our solar panel will complement your home's inherent aesthetic architecture and provide a flawless style that looks extremely beautiful from far away.
We make a unique collection of energy solutions that enable homeowners, companies, and other organizations to optimize renewable energy production, preservation, and consumption. Also by integrating battery production, we build batteries at a level that is necessary to reach manufacturing targets. From system surveillance daily, free maintenance, repairing to complete insurance, our solar panel services in Sydney include it all.
Sun Max Solar, will help you to find the most cost-effective solar energy options for your business and home. We are registered by the Clean Energy Council, so you can be confident that you are working with the best installers for your solar projects; installers that are dedicated to the clean energy field.
Our solar panel installers are experienced and certified to work on both commercial and residential projects. We'll work with you to ensure a smooth and effective process without the hiccups. Reach us to get effective and affordable solar panels for your property.
Contact our specialists to bring solar to your home
It might be difficult to find a solar system that is suitable for your location. Choosing a solar system may be a challenging process. There is no straightforward way for identifying, analyzing, and selecting service providers and/or funding options. Sun Max Solar ensures that you get a customized and substantial experience.
If you want to become an environmentalist by installing solar panels in Sydney and really want to learn more about how solar electricity in Sydney might operate for your home or business, take a free 30-minute appointment with no terms and conditions just today. Our experts will then spend the next 30 minutes planning and creating a Solar System to meet your lifestyle, selecting goods that meet your needs while keeping below your expense and answering any concerns you may have about Solar energy or solutions.
Some Frequently Asked Questions (FAQS) regarding Solar panels Sydney
After installing solar panels, would I require electricity off the Grid?
Ironically, there isn't a simple answer. Numerous factors influence whether or not you'll require additional grid electricity to power your solar system. Your household power usage, the type of device you pursue, and the total energy developed over the day will all impact the results. When the quantity of electricity generated by the sun is inadequate, your system will switch to grid power instantly.
What are the solar panels' locations?
Ideally, your Sydney Solar Panels should be installed on a terrace that faces north or west so that they can capture the maximum sunlight during the day. However, we are well aware that such rooftops are not always present. But does this mean that solar panels cannot be installed in Sydney? If solar panels cannot be put on a north/west facing roof, they can be installed in other locations such as your pergola, garage, veranda, balcony, and other residential areas.
Is it possible to attach additional panels to the solar system I currently have?
Indeed, extra panels could be added. However, there are a few things to think about first. Firstly, You'll have to reapply to attach more panels (kWs) to the grid since the installed parts must match current equipment (panel wattage and inverter capacity). This has an impact on the present feed-in tariffs (adjusting the system may remove your current Fit).
If the system is outdated, it will need to be upgraded to meet current electrical standards; the requirements and costs may vary depending on the year the system was installed.
If you want to create more electricity, it's often better to build a second system.
Is installing solar panels valuable for Sydney residents?
Solar panels are a good investment in every Australian state, regardless of your power usage.
While there are numerous factors that influence the expense, benefits, and repayment of solar panels, the bottom line is that they are a smart investment in Sydney. Solar panel systems typically pay for themselves in 5–6 years, with some systems paying for themselves in as little as 4 years.
A smart solar power system should save you money for 25 years if you get it right.
Is it possible to install solar panels on a flat roof?
Yeah of course! Flat roof solar panel systems are much more typically seen on commercial projects, however, they can also be used on residential homes.
The single rooftop has its own set of challenges that we try to overcome in order to deliver the finest possible result. With the help of Tilt mounting options, we can use the slant solar panels appropriately so that they get the most amount of sunlight.
Is a solar panel system going to be enough to meet all of my electrical needs?
That, of course, is dependent on your requirements and circumstances. Solar panels' electricity may only last a short time if they are used to power a large number of electric automobiles. On the other hand, if you're just using them to power your house, they're OK. The effectiveness and utility of solar panels are determined by a variety of factors, such as
1. The size of the solar system you've put in your home.
2. The angle of your roof in relation to the sun; whether it is exactly below or opposing the sun.
3. The amount of electricity used in your home.
These are all just a few of the criteria that go into determining the size of your solar panels. Don't panic, the Sun Max Solar crew has you covered. Based on your demands, we would design and implement solar systems in your home. We may personalize our services to fit how you want the solar panels to function. It will guarantee that the system gives you the best results possible.
Our experts can create solar systems based on your demands, whether you wish to utilize them for household appliances or everyday electrical needs like lamps. Consider a larger size and the finest installation technique if you want the solar panels to meet all of your electrical demands. You can count on the Solar Samachar team to offer you whatever you need.
Will my panels function if it's overcast outside?
Solar panels can generate power in any weather and at any time of year. You'll notice that performance varies from one day to the next. A solar panel will normally function at 10% to 25% of its capability on a cloudy day.
We account for the quantity of sunshine that your unique location receives every year when designing and estimating the output of our systems. This implies your system will be adequately scaled for the number of bright (or cloudy) days you have each year.
Is it possible to use solar panels at night?
Solar panels require sunshine to generate power, and they are inactive at night. When you go solar and use net metering or a home battery, you will still have electricity at night.
● Net metering helps you get the most out of your solar energy: Net metering is possible when your solar installation is connected to the grid. Excess electricity generated by your solar panels is routed to the grid. Your account is then credited by the utility company. You may use those credits to draw electricity from the grid at night, ensuring that your solar energy is never wasted.
● Solar Battery Storage Provides Energy Self-Sufficiency: We utilize battery storage to utilize solar electricity at night. Solar batteries help solar panels produce more energy throughout the day and store it for later use. Rather than sending extra electricity to the grid, store it and utilize it yourself. Before pulling energy from the grid, you'll use the battery first.
Your solar installation can use a house battery or net metering to get free or low-cost power at night. As a result, solar is a cost-effective energy source available 24 hours a day, seven days a week. Both day and night, our solar panels and batteries will keep you powered up.
How Would I Use the Energy Collected by the Solar Panels Technologically?
The answer is very basic. You use it in the same way as you would conventional electricity. The inverter transforms the direct current (DC) generated by your solar panel system to 240V alternating current (AC) (AC). Either it's recycled straight into your home or, after being converted to AC, into the electrical grid.
What happens in the event of a blackout?
Sun max solar systems turn down immediately during a power outage to safeguard utility people who may be operating on power lines. This implies that during a power outage, the solar system will not deliver power to the residence. Once the utility restores electricity to the grid, it will instantly turn back on.
Home solar systems with Sun Max solar battery service are an exception to this rule.
Will my solar panels function in the winter?
Absolutely, your solar system will offer power to your home throughout the year, although the quantity of power produced may vary depending on the season.
With the longest days of the year and constant sunshine, summer is when solar output peaks. Due to shorter days and a more changeable climate, solar output is at its minimum in the winter. We build our systems to work in all four seasons, so you don't need to worry about seasons.
What is the most effective method for determining which size is appropriate for me?
It's one of the difficult decisions to make when installing solar panels at home. To decide, take into account the following aspects that may affect the size of your system:
● First and foremost, the presence of un-shaded areas is important.
● Besides that, what is your financial plan?
● Last but not least, how much power do you require?
You might get an idea of what size might be ideal for you if you know the solutions to these questions. If you are unable to find it, please get in touch with one of our solar specialists at the email address or phone number given. They will assist you in determining what size installation will deliver you with the best output to meet your property's power requirements.
How will I trust you, do you have any Guarantee?
If you go solar with us, you receive far beyond simply panels on your roof. You're agreeing to a commitment of 25 years of maintenance and assistance.
We chose our products with longevity in mind, however, something will inevitably go wrong throughout our contract. We'll fix everything on your system that breaks or isn't performing properly.
In addition, if a system failure leads you to create less than what we promised, we will repay the difference. We'll evaluate how much electricity your panels generated to the output guaranteed in your contract. If your panels don't generate as much as we planned, we'll give you a replacement.
We're here to help you get started on your solar adventure.
Contact us on the given email address or telephone number to speak with a Solar Advi
Why You Should Install Solar Panel in Sydney
Sydney is one of the best places to opt for solar panel installation as the city gets 7-8 hours of bright sunlight every day. Opting for solar panels is an economical solution nowadays in terms of both reducing energy rates and saving some decent amount of buck from it. This is the main reason why almost 20% of households in Sydney have solar panels installed. Solar Installation in Sydney can be a great investment. So what are you waiting for? Fill the Form to Install your Solar Panel in Sydney from best Solar Panel Installer in the Town.
Fill the form for an Obligation Free Quote!
Hassle Free Experience
We guide you along each step and manage every aspect of the installation from planning to installation.
Custom-Designed Solar Solution
Your system is designed as per your energy needs and requirements.
Competitive Pricing
Our procurement strategy enable us to source best quality products at competitive prices which then allow us to pass on those savings to you.
Customer Care
Our team has been hand selected based on skill, experience, and professionalism which means we will always be there for you with your solar needs.
Why Sun Max Solar?
Sun Max Solar is one of the most Trusted Solar Panel Installer in Sydney. Our experienced team of Solar Energy experts is committed to providing high-quality customer service built on a foundation of transparency and honesty. The solar energy industry can be confusing, and we work with our clients to tailor a solution to their needs.
We have proven track record of excellent after sales service. We have installed solar in Sydney at 100+ houses, and they are proudly saving on energy bills.
Recent Solar Installations in Sydney!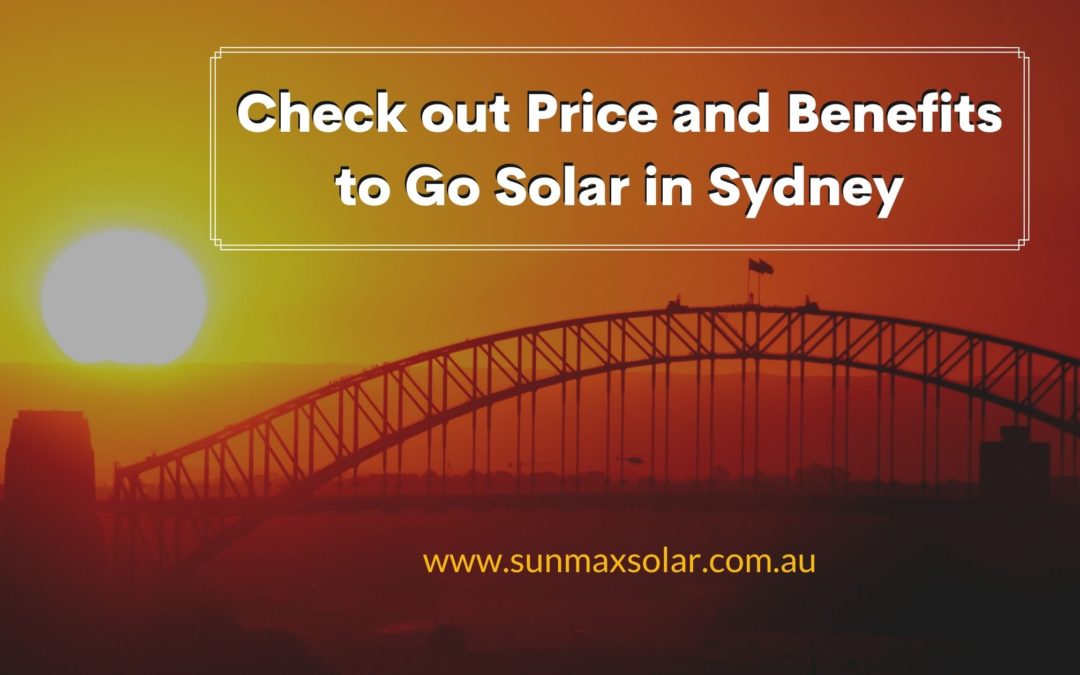 Sydney is one of the best places to opt for Best solar installer in Sydney .As the city gets 7-8 hours of bright sunlight every day.Opting for solar panels is an economical solution, nowadays in terms of both reducing energy rates and save some decent amount of buck...
read more